.

CONFERENCE ON MATHEMATICS AND THE ARTS

ESMA,The European Society for Mathematics and the Arts  organizes an international mathematics and arts conference in a three year basis.
After being held at the French Institute Henri Poincaré in Paris and the Italian University of Cagliari in Sardinia, the Third ESMA Conference will be held in Ljubljana, Slovenia, at multiple locations. 
You are welcome to attend the conference and visit the charming city of Ljubljana.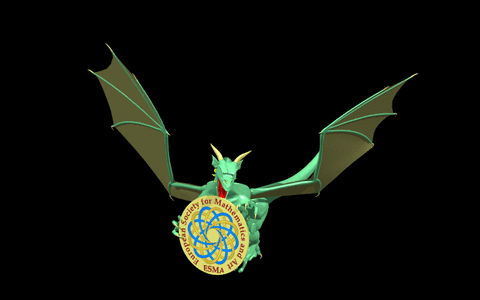 © AUTHOR OF THE ANIMATION: JOS LEYS

.
SCIENTIFIC BOARD
François Apéry (France)
Andrej Bauer (Slovenia)
Tom Banchoff (USA)
Claude Bruter (France)
Mateja Budin (Slovenia)
Renzo Caddeo (Italy)
Mike Field (Great Britain)
Gregorio Franzoni (Italy)
Dmitri Kozlov (Russia)
Jos Leys (Belgium)
Richard Palais (USA)
Tomaž Pisanski (Slovenia)
John Sullivan (Germany)
Daniela Velichova (Slovakia)

.